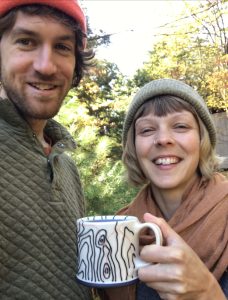 Cheyenne and Zac make functional pottery that features map-imagery of mountains, hiking trails and rivers. They love to go on outdoor adventures, and their current body of work started out as a way of preserving the memories of those cherished experiences in clay. While the initial inspiration for their map-pottery was personal, they hope others can use their work for a similarly commemorative purpose.
Cheyenne grew up in rural Wisconsin and moved to the Hudson Valley in 2011, where she transitioned from printmaking to clay.  Zac, a native of the Hudson Valley,  joined in late 2018. They currently maintain a home studio in Olivebridge, NY, near the Catskill Mountains.
Our pots are intended for everyday use, and are made using food-safe glazes.  Most pieces are microwave and dishwasher safe, though handwashing may increase longevity. We work primarily with a porcelain clay body, and fire in an electric kiln to cone 6.